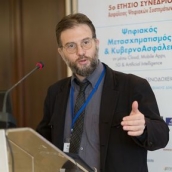 Vasileios Vlachos
Dr. Vasileios Vlachos is an Assistant Professor at the Department of Economics at the University of Thessaly. He holds a Diploma of Engineering in Electronic & Computer Engineering from the Technical University of Crete, an MSc in Integrated Hardware and Software Systems from the Department of Computer Engineering and Informatics of the University of Patras and a PhD from the Department of Management Science and Technology of the Athens University of Economics and Business. He is a Senior Researcher at the Computer Technology Institute and Press "Diophantus" (C.T.I.) of Patras and an external collaborator at the IoTLab of the University of Patras, participating in national and EU funded research projects.
Dr. Vasileios Vlachos has co-authored more than 40 research articles in peer reviewed international journals and conference proceedings, while he has given numerous invited lectures and talks on cybersecurity related subjects. His research interests are in the fields of Cybersecurity and Cybercrime, Distributed Trust Management, Crowdsourcing Intelligence, Complex Systems, Computational Economics, Free and Open Source Software.
Dr. Vlachos is a member of the Board of Directors of the Greek Free/Open Source Software Society (GFOSS), member of the Board of Directors of the Hellenic Association of Computer Engineers (HACE), member of the Board of Directors of the Greek Computer Society (GCS), member of the Executive Administration of the Technical Chamber of Greece and member of the Special Scientific Committee of Electronic Engineers. Currently, he is also serving as the Deputy Director of the OWASP Greek Chapter. In the past he has been appointed as special adviser and technical expert at the Digital Awareness and Response to Threats (DART) task force of the Special Secretariat for Digital Planning of the Hellenic Ministry of Economy and Finance.